Whoa, am I the only surprised by how quickly 2021 has gone? It feels like I blinked and 2022 is almost here. I've been reviewing gifts to share with my nearest and dearest, so please check out My Quirky Christmas 2021 Gift Guide for Everyone including YOUR family and friends!
I think that the best gifts are the gifts that have a story and show that you thought about the recipient before making your choice. For me, the quirkier and more unusual the gift, the better. I hope my list of gift ideas helps you choose the right gifts for your loved ones. So let's get started …
1. Cut out Christmas pop-up cards
This is the ultimate Christmas gift on my list as a parent. As I write this gift guide, I can imagine the big smiles on the faces of my daughter's teacher and the teaching assistants. As a parent, I know how hard it is to look after your own children let alone someone else's child. So whenever I am able to, I try to do something for my daughter's teachers to show them that I appreciate their effort in educating my daughter.
When I received two Christmas pop-up cards by Pop-Up Pigeon (a Robin Pop-Up Christmas Card and a Santa's Cadillac Pop-Up Card), I knew that I had found the right Christmas cards for my needs.
The cute Christmas robin pops up from a grey card, which has a cut-out bird and a sprig of holly laser cut into the cover. The inside reads 'Merry Christmas' in cut out lettering. It is a very simple but unique card. It shows that you took your time to scout for unique cards and not the run of the mill ones.
Please click here to order your own Robin Pop-Up Christmas Card.
If perchance you are not a fan of birds, another pop-up card in the Pop-Up Pigeon Christmas card collection is Santa's Cadillac Pop-Up Card.
This intricate piece of card art features a 3D Cadillac, driven by a waving Santa with a pile of presents in the back. The inside of this handmade Christmas card is left blank for you to write in your own message or if you prefer, Pop-Up Pigeon can add a personalised note and send it directly to the recipient. Just add the details to the checkout page.
The card is sent to you in a cream envelope, cellophane wrapped and encased in a protective cardboard envelope.
Another good feature about these pop-up cards is that they can fit through your letterbox, so you do not need to be at home to receive them.
Please click here to order your own Santa's Cadillac Pop-Up Card.
2. Lemongrass Rosehip Hemp Tea
When I was first asked to review this tea, I could not help but close my eyes and imagine that it was Christmas day. This tea reminds me of something that I would drink on a cold day whilst snuggled up under my duvet watching Christmas movies after overeating.
Manufactured by evopure, this Lemongrass Rosehip Hemp Tea contains 12 hand-selected organic hemp tea bags combined with a restorative mix of 100% natural ingredients each providing 3-4 large cups of tea providing you with a powerful natural way to refresh your body & mind.
Each hemp tea box provides between 36-48 large cups of tea, packed with the full range of nutritional cannabinoids. *Contains 0% THC.
LIST OF INGREDIENTS
Hemp
Sea Buckthorn
Liquorice
Lemongrass
Orange Peel
Rosehip
Echinacea
As the mother of a young child, I know that my daughter loves eating and drinking everything that I do. So, it was important to me that this is a safe product for my daughter to at least taste, so I asked the question. Below, is a screenshot of the manufacturer's reply
So, this tea is a healthy and natural product, suitable for adults and children during the holiday season. It can help people with anxiety, pain and sleep problems.
Please click here to order your Lemongrass Rosehip Hemp Tea now.
3. Newspaper Gift Wrap
When I first saw a tweet with these gift wraps, I was intrigued and just had to ask for review samples. When it turned up in the post, I had completely forgotten about them, so was surprised to receive a newspaper in the post. These gift wraps do look and feel like traditional newspapers but when you turn the page over, you see that the other side has very lovely decorations, ideal for wrapping all your Christmas presents.
It was at this point that I could appreciate what the founder of READ WRAP RECYCLE was doing. I do not like that we cut down so many trees to make papers for one-off use. I love that the wrapping papers used at Christmas time can be recycled and reused.
So, these should be at the top of your Christmas order list to wrap all the presents you will be getting your loved ones.
ABOUT THE NORTHERN STAR NEWSPAPER GIFT WRAP
The Northern Star is the original Read Wrap Recycle paper. It is a broadsheet newspaper gift wrap made up of 5 sheets measuring 380mm x 578mm each. Each sheet has a newspaper front on one side, and an alternating pattern encompassing the other. 3 pages feature the holly repeat pattern, whilst 2 pages feature the red candy stripe.
Please click here to order your Northern Star Newspaper Gift Wrap now.
4. Funny Rude Mugs
If you're looking for a funny rude coffee mug, whether it's something for the office, as a Christmas stocking filler or as a rude novelty mug for friends or family, Dean Morris Cards have got them all!
I received a sample of one of their 'I heard it on Facebook' Mugs to review and I must say that I was not displeased with the quality.
The mug has a diameter of 85mm and is 90mm high. So it is not a super large one. I found it perfect for a quick drink. It's also the perfect volume for my 6-year-old as she loves a mug of hot chocolate too.
The mug is microwave and dishwasher safe, so perfect for making a microwave cake, hmmm yum yum.
On the Dean Morris website, it says that ALL orders are sent by RoyalMail 1st Class. However, due to its size, the mugs cannot fit through your letterbox, so someone needs to be home to accept delivery.
UK deliveries usually arrive within 24 – 48 hours.
I have a friend with a foul mouth and I think she would love a rude mug. If you have such a friend, then get to order yours today. All mugs delivered within the UK qualify for free shipping, so don't delay, click here to order yours now.
5. Sainted Christmas Cushion
Another product I reviewed for my Christmas 2021 gift guide is a Sainted Pink (the musician) Christmas Cushion. What exactly is a Sainted Pink Cushion you ask? Well, the independent gift company, My Sainted Aunt started off by awarding 'Saint' status this Christmas to the legend that is Vivienne Westwood.
In paying homage to Saint Vivienne's creative genius and commitment to achieving environmental justice, My Sainted Aunt has produced a range of Christmas themed prayer candles, cushions and scented candles, each created in her divine image.
They have also Sainted a number of other celebrities. My daughter's favourite colour is pink and I like Pink the musician, so I thought that a pink Pink would be the perfect product to review. See what I did there? Wink … Also, we can never seem to have enough cushions in our household.
I found the cushion to be soft but not too soft and retains its shape during use. I particularly love this cushion because I found it to support my back well. I had spinal anaesthesia when I gave birth to my daughter and since then my back has not been what it used to be. So even though this cushion doesn't make any medical claims the thickness and support it gives when I put it on my back is just perfect for my needs.
The only problem is that my daughter also loves it, so we have to have a timetable over who uses it and when. If you or someone you know loves cushions just as much as we do, then please click here to order your Sainted Pink Christmas Cushion.
6. Personalised Bamboo Thermal Tea Flask with Tea Strainer
I love drinking herb and fruit infused water but sometimes I get lazy with having to filter them out. I felt like a child in a candy store when I received a personalised Thermal Tea Flask with Strainer. Now, all I need do is pop my favourite herbs in the strainer, pour hot water (slightly cooled, not boiling hot), leave for a couple of minutes (time enough to refill the kettle) then take out the strainer.
The flask is double-walled and made from stainless steel with a bamboo exterior. An engraved name can be added to the side of the flask to make it unique. Since I got it, I've been able to drink my favourite combo of lemongrass and star anise infused tea.
The only downside this flask has is that it has a capacity of 360 mls, so doesn't last the entire day, especially when my daughter takes a sip sneakily.
If you know anyone who is looking to be more eco-friendly would like a sustainable alternative to plastic, then please click here now to order one personalised bamboo thermal flask with a tea strainer.
7. Personalised Kids Assistant Chef Apron
When I first touched this apron, I knew that I had found a WINNER! My daughter loves helping me out whenever I'm doing something in the kitchen. She especially loves to help with food preparation. As the assistant chef, she takes her dishwashing responsibilities very seriously.
When she outgrew her waterproof apron, I had a difficult time finding the right apron for young children that was both beautiful and waterproof. When I read that the material of this apron was  65% Polyester, 35% Cotton, I was sceptical and not sure if it would be a good fit.
But honestly, I had no reason to worry. Whilst it is not your typical plastic waterproof apron, it is waterproof enough for my daughter.
Having gone to a Montesorri nursery, where the parents were encouraged to support their children in being independent, it is important to me that I provide the tools that my daughter needs to be independent. This apron fits the bill!
These super cute personalised kids aprons have a chef hat design printed on the front and can be personalised with your chosen name to go above the fixed text 'Assistant Chef'. They also come in a range of colours.
My daughter loves her new apron, I love my daughter's new apron and I totally recommended it to everyone who is looking for a customised apron for their child.
Please click here to order your personalised Kids Assistant Chef Apron.
8. 100% Hand-assembled Christmas Pop-up Card
If you are looking for pop-up Christmas cards that have a lot of love put into them, then you need to check out the range of hand-assembled Christmas cards by Cardology. These Christmas pop-up cards are gifts in themselves and are designed to leave a lasting impression.
When I received three different designs, they all brought a smile to my face and I look forward to sharing them with my loved ones.
The Christmas Bear pop-up card is the perfect keepsake card that can be treasured forever. When I opened it, I found that the pop-up was of a cute teddy bear wearing a Santa hat and holding a present. The inside cover of the card has a Christmas tree and lots of presents.
Please click here to order your Christmas Bear pop-up card.
The next design is the Christmas Robin pop-up card that pays homage to our well-respected postmen who delivered the Christmas cards in 19th century Britain.
Apparently, in those days, the postmen, in their red-breasted coats looked so much like the much loved British bird and earned the postmen their nickname "Robins." If it wasn't for the posties braving the cold winters on foot, we would all be cardless at Christmas!
So, if you would like a pop-up Christmas card that pays homage to our humble postmen, then the Robin pop-up Christmas card by Cardology is just what you need.
Please click here to order your Christmas Robin pop-up card.
The final design in the Cardology Christmas card range that I received is the Santa pop-up card.
This stunning pop-up card reminds me of everyone's childhood – filled with dreams of Santa with a bag full of presents climbing down a chimney, ready to spread lots of Christmas cheer. It reminds me of the type of childhood that I want my daughter to have, one that is filled with love and laughter.
Apart from being 100% hand-assembled, I found that the cards by Cardology are 20cm long and 15cm high. I was surprised to find a Slide Out Note Card Included To Write Your Message On.
The 'envelopes' that the cards were delivered in are reversible, so you can reuse them when posting out. Win-win! All orders are sent via Royal Mail 1st Class post and fit through your letterbox, so you do not need to be home to accept delivery.
Please click here to order your Christmas Santa pop-up card.
9. Massages
Seriously, who would not like a massage to get rid of the stress that 2021 brought with it? I personally think booking a treat for someone would be a great Christmas present, at least it would be for me. I use the app called Urban to book a massage therapist to give me a deep tissue massage from the comfort of my home.
If a deep tissue massage is not your cup of tea, Urban has lots of other treats that you can consider.
Better still, if you use the code RBUNMI8AU, you can get £30 off your first booking with Urban.
Click here to book your first massage via your mobile phone or tablet.
10. My Children's Book for Adults – Yetunde: An Ode to My Mother
I don't think my gift guide would be complete if I do not mention my favourite children's book Yetunde: An Ode to My Mother. I wrote this book when I was in a bad place in my life, after the death of my mother. Writing this book help me to birth my grief and move forward with my life.
Even though it is technically a children's chapter book that showcases the life I think my mother would have had with my daughter, I have been told by a lot of adults I know that it also reminds them of their own mother.
So, if you are looking for the perfect Christmas gift for YOUR mother or any mother you know or future mother, then this is the book you need to get her for Christmas.
Yetunde: An Ode to My Mother is on my family to-read list for Christmas 2021, so click here to order yours now!
11. Enamel Roasting and Serving Dish
I love cooking for my daughter and getting her to try new flavours. So, I'm sure you can imagine how big the smile on my face was when I received this yellow colour pop Enamel Roasting and Serving Dish. The first thing that crossed my mind was how perfect the dish is to make simple baked eggs, Spanish omelettes and a frittata.
One of the reasons I chose to review this Enamel Roasting and Serving Dish is that you can use it on the hob, put it in the oven and even serve all your meals in it. What is there not to like about it?
According to the manufacturer, this Enamel Roasting and Serving Dish is durable and resilient and can be used both outside and indoors, and the colours will stay bright and vibrant (even in the dishwasher), as they've been heated to 800°C during production. And better still, it is unlikely to shatter.
That said, whilst it is dishwasher safe, it is not suitable for use in a microwave. You still need to avoid knocks and bumps as the outer coating can chip in the same way as ceramics or stoneware.
Please click here to order this Enamel Roasting and Serving Dish for the chef in your life!
12. Afternoon Tea Notebook
As co-host of my podcast The Segilola Salami Show, my 6-year-old daughter was gifted an Afternoon Tea Notebook by PrimaBerry to help her write her notes for each episode she presents. Writing her questions and comments helps my daughter to focus and present each podcast episode to the best of her ability.
The notebook comes with a black ribbon and a black elastic band. The notebook cover is made from Portuguese cork.
The harmless harvesting for trees, its 100% biodegradability and its high quality make cork one of the most sustainable materials available today.
Please click here to order your Afternoon Tea Notebook.
13. Afternoon Tea Umbrella
With the unpredictability of the British weather, I have found it difficult to get an umbrella that is small enough to fit in my handbag but sturdy enough to cope with the weather, especially when it is raining and windy.
When I was gifted this easy to fold umbrella to review for my Christmas 2021 gift guide, I knew without a doubt that I had found what I had been looking for in an umbrella. The umbrella opens and closes at the touch of a button and you can feel the sturdiness in the material used in making the umbrella. As a bonus, this Afternoon Tea Umbrella is also beautiful to look at. What more could you ask for in an umbrella?
The nine panels of this umbrella are light pink featuring PrimaBerry's initials in black decorated with colourful porcelain teacups, scones, macaroons, and a teapot and one panel is blue with PrimaBerry's logo in white. It also comes with a pink umbrella pouch.
Please click here to order your Afternoon Tea Umbrella.
14. Red Shopping Bag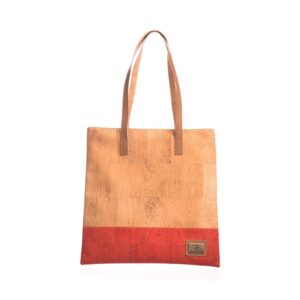 100% made in Portugal using extra superior quality cork, this shopping bag by PrimaBerry is both beautiful and good for the environment.
When I received the sample of this shopping bag that I was gifted, the bag looked like it was made from leather but didn't have that original leather smell that takes ages to dissipate.
The shopping bag is lightweight and soft to touch. It was also delivered in a 100% cotton drawstring bag. I love this extra bag as it can be used in place of plastic bags when I do my top-up food shopping.
Cork is a 100% natural raw material removed every 9 years from the cork oaks that make up the vast but delicate ecosystem of the Alentejo Montado, in Southern Portugal.
Please click here to order your Red Shopping Bag.
15. Snappy Squirrel Light Green Shirt for Kids
Even though my daughter is only 6 years old, she currently wears clothes for children aged 9 – 10 years old. The last time I ordered a pack of t-shirts for her, I found them to be wide across but not long. The shirt was close to being a crop top tent on her. So, you can imagine my joy when I was gifted a t-shirt for her by PrimaBerry.
If you have a slim but tall child or know one, then I totally recommend t-shirts by PrimaBerry.
My daughter especially likes the Snappy Squirrel Light Green Shirt because "the squirrel is very cute!"
The Snappy Squirrel Light Green Shirt is suitable for both girls and boys and is made from 100% organic cotton.
Please click here to order a Snappy Squirrel Light Green Shirt for your child today.
16. Wireless Headphones for Children
As co-host of my podcast The Segilola Salami Show, I have been on the lookout for wireless headphones that were suitable for my daughter to use when recording her next episode of the show. When she was gifted a pair of wireless headphones by Planet Buddies UK, I knew that I was on to a winner. I was particularly looking for headphones that would not hurt her ears. This headphone is volume limited to 85Db – perfect for my daughter.
If this is your first time using wireless headphones, all you need to do is turn on the blue tooth function on your device and pair it to the headphones. There's a single button on the headphones which you need to press and hold for 5 seconds after which the light starts blinking.
Click here to order your Wireless headphones for children by Planet Buddies on Amazon UK NOW!
17. Noise Cancelling Earbuds
If you have never had noise cancelling earbuds before, you don't know what you are missing out on. When I started using the Soundcore by Anker Life P3 Noise Cancelling Earbuds, I knew that it was not a thing of luxury, a want. Rather, it was something essential that I did not know that I needed.
I used to find it cumbersome putting my phone to my ears, so most times, I used the loudspeaker function on my phone. My flat is very long, so I lose internet connection in some parts of my flat. It takes a few seconds for my extension modem to get connected, so, if I am on an internet call, the call cuts off when I move about.
With my Soundcore earbuds, I don't need to move about the house with my phone. The earbuds have a long-range, so I can charge my phone and still move about without losing internet or Bluetooth connection. Whilst waiting for my train, I popped my earbuds in and I can say that it cancelled out 90% of the noise on the platform. Listening to music is very pleasurable that I didn't know when I started bopping my head.
However, if you use public transport regularly, especially get on and off busy trains, I recommend that you take your earbuds off first. Without the security of wires, they can get knocked off your ears if someone bumps into you.
Click here NOW to order your Soundcore Noise Cancelling Earbuds on Amazon UK!
18 Cordless Handheld Vacuum Cleaner
Until I was gifted a handheld vacuum cleaner by eufy I used to think I had no use for them. Then, I started to notice dirt in had to reach places all over my flat. The best use I found for my new handheld vacuum cleaner is one I am sure the manufacturers did not think about – spider trapper. If it had a longer reach, I am sure they would sell out on a daily basis. Now even my 7-year-old is a "spider-buster!"
So don't waste any time today, click here NOW to order your handheld vacuum cleaner by eufy on Amazon UK!
***
Here's wishing you a very early "Merry Christmas" from my family to yours! I hope you found my Quirky Christmas 2021 Gift Guide for Everyone useful.